Issue #92: I Do What I Do by Kev Brown

November 20, 2017

Facebook | Twitter | Spotify
I Do What I Do by Kev Brown
Released On September 16, 2005
Released By Up Above Records
This Week's Selection Chosen By Kellen "J. Clyde" Ford
I've often said that telling people you're a music producer is like telling them you're a racecar driver, or an astronaut. It's kind of outlandish. It's kind of unbelievable. To most people, it just plain doesn't register. Why? Well because, for one, nobody knows what being a "producer" actually means. Two, "don't those people live in New York or L.A.? Well, then what are you doing in the same bar as me in Norfolk, Virginia?" This is my life — a music producer from a normal town, that's had abnormal success, yet not enough to make me a celebrity or able to leave the old nine-to-five behind. I can't express how difficult it is to make people understand the sacrifices I've made in pursuit of my dream. The countless hours of practice. The countless rejections compared to the relative handful of acceptances. The seemingly endless trail of short-term relationships that never even really got off the ground because I refused to surrender my time. It's a lonely, depressing, existence. You're madly in love with something that so rarely ever loves you back. The highs are immeasurable, but the lows are the normal. One of the main questions we set out to answer on OYR is "what does this album mean to you?" Well, with I Do What I Do, Kev Brown gave me a reason to stop trying to explain. He wrote my life, and now all I have to do is play the album for people, and they understand.
What do we want most from our artists? In my opinion, it's honesty. I'd love to see some humility, but due to the braggadocios nature of hip hop's DNA, that's probably asking too much. But how often do you ever hear an MC say things like "I hope you didn't download it, I need the money?" I Do What I Do is the most honest look we've ever seen at the life of a producer. It pulls the curtain back, and exposes the normalcy, the everyday struggles, the loneliness, and the rejection. Kev takes us through what it's like to have success in the industry without being a celebrity. Take "Outside Lookin In," for example, where he tell us "it's not all it's cracked up to be, now I got kids on my block looking up to me / and that's strange, and I feel stained and stuff, feeling that I haven't gained enough." I could also quote the entirety of "Struggla's Theme," a pinpoint description of what it like to have to chase your money as well as your respect. I can relate, Kev.
What do you do for love when you're chasing your dream, and your most important asset is time? Well, either go find some love, or keep chasing your dream, but you don't have time for both. I could say the same thing as Kev on the opening line of "Always" — "I've never been in a serious relationship." Aside from the string of short-term flings I mentioned earlier, this is my love life: "nowadays I'm trapped off, doing tracks to blast off / being lonely's a regular thing, my phone don't ring / I'm up in the lab composing… maybe I'm / exaggerating, but it gets aggravating / ya talking another language, and nobody's translating." And then there's "Albany," one of my all-time favorite love songs in any genre. The reason I love it so much is because the imagery is so ordinary. They're not making love under the Eiffel Tower, they're "driving around, looking for a parking space." He's not crying over the girl. He's just wondering about her, and why it didn't quite work out. I can relate, Kev.
The great part is, even if you don't relate to the album as deeply as I do, you can still enjoy it from start to finish purely on the merits of the music. There's a reason he's called the king of the bass lines (see "Keep On," or "Work In Progress," or every other beat on the album). I wrote last week about how much I appreciate interludes on albums and, perhaps an homage to Kev's idol Pete Rock, there are interludes a plenty here, featuring some of the DMV's finest spitters and scraps of tracks that hit the cutting room floor. For me, this album is a name tag at a crowded conference — it tells complete strangers who I am, what I do, and why I do it. So this week I give thanks to Kev Brown for giving us a priceless album on the lowest of budgets (see what I did there?). Now pass the gravy!
Kellen "J. Clyde" Ford (@jclyde757)
Steadfast Hip-Hop Historian & Creator
http://jclydebeats.com
---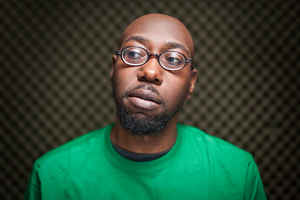 A mellow wordsmith & scrupulous beatsmith proudly repping Maryland's Palmer Park.
---
We don't really hear from our readers, but I often wonder if people are experiencing this project like we are. Do you listen to the weekly selections? Can you enjoy Off Your Radar without listening to the albums we cover? Does it matter? I ask because if you have been following from the beginning and your musical sensibilities are similar to mine, you probably have learned a lot about hip hop. So many of Kellen's picks are part of this larger tapestry of indie hip hop—these artists show up on each other's records, like Phonte does on Kev Brown's I Do What I Do. I am certainly no expert, but I'm beginning to see how everything is connected and it's been one of the most rewarding things about writing for OYR. I Do What I Do, however, is very different from the albums we've covered before. Most of the songs are near the 3-minute mark and seem like sketches or jazz compositions with beats, and some of them just end. For example, the beats in "Say Sumthin" start to fade out at about 2:50, but then Kev comes back in and raps for about twenty seconds before the song fades out again. It's not like anything I've heard before. Kev also sweetly covers another topic that other rappers haven't handled in the same way: love. "Albany" is an honest look back at a relationship that never was. He beautifully captures both nostalgia and his own feelings of regret. "I made this beat, and thought about you today / It's been a long time since I seen you last / It's like time moves too fast to keep your grasp / At least sometimes it does / I was gonna call, but I know you stay busy and all." I am so impressed with creativity and originality Kev Brown exhibits on I Do What I Do — listen to it and see if you can figure out how it connects — musically and otherwise — to both previous OYR selections & the indie hip hop community at large.
Melissa Koch (@bunnycaper)
Mediocre Runner, Aspiring Celebrity DJ
---
I was about halfway through listening to Kev Brown's I Do What I Do when I typed the album title into Google, trying to learn more. The first result I got was a Discogs entry for a vinyl release of the album that came out in August, about two months ago. I was a bit surprised that an album this new would show up on Off Your Radar, but I figured someone had really liked it the week it came out or something. Of course, further Googling revealed this to be a reissue of an album originally released in 2005, which made a bit more sense — but what I found intriguing was that I didn't guess that it was older based on the way it sounds. I Do What I Do has a sound that is of the moment, with lyrics that reflect very real concerns in at least my life right now. Sure, it doesn't sound like the chart-topping hip hop of today, but it didn't in 2005 either, and I've gotta admit, it's been a long time since I was stoked about the sound of hip hop's mainstream. Maybe I am an old lady, but I miss the days when the sound still had lineage back to the golden age of hip hop in the late '80s and early '90s. Sure, I want the art form to evolve, but production that draws from the crate-digging sounds of producers like DJ Premier and Pete Rock (who gets a shoutout on this album — right on) makes more sense to me than all that electronic stuff that came into vogue after The Neptunes and never really completely went away. I want funk, jazz, and R&B sounds underneath well-structured lyrics that are thought out and tell a story, not just showing off slant rhymes and spit a bunch of disconnected imagery. Kev Brown has the sort of flow that I often long for and rarely find, with a specific worldview and a sense of place that communicates something deeper than "that's a dope rhyme." In case you haven't figured it out yet, I like this album a whole lot. The two-part centerpiece of the album, "Hennessey" (Pts. 1 and 2), stands out with its sad stories of watching people's downhill slide go on regardless of what you try to do to help. When the song transitions from parts 1 to 2, soulful singing takes over from the rap of part 1, further underscoring the mood. Meanwhile, the beat from the album's intro fades in quite a few times inbetween other tracks of the album, giving us snatches of Brown's lyrics and tying the whole record together thematically. Brown, the founder of the Low Budget crew, may not have a ton of money to spend on production, but he has plentiful skills and uses them here to create a standout album worth plenty of attention from anyone who misses the days of thick-layered samples and lyrical skills.
Drew Necci (@buzzorhowl)
Insightful Scholar Of The Underground
http://gayrva.com
---
Elegant understatement is perhaps a quality not too often associated with hip hop, but that's what Kev Brown gives us on his debut from 2005, I Do What I Do. The beats are spare, built out of crisp drums and jazz and soul-infused samples, a bass line here, a few piano chords there, just enough melody and funk — but no more. The rhymes, both by Brown and his well-chosen guests, flow with ease and even grace, laid over the tracks with a casual flair. On Intro he says "I'm not trying to change the game," and that humble spirit is one of the strengths of a very strong album. Maybe that self-effacing quality is why there are features on half the songs on the album, but one listen to solo tracks "Keep On" or "Albany" is all the proof you need that Kev Brown is the full package. Then there's "Life's A Gamble," the 14-minute closing track, which weaves song fragments into Brown's own low key B-Boy Bouillabaisse, becoming just another example of his quietly ambitious mastery. He's still out there, doing what he does — catch him at U Street Music Hall in DC on November 25.
Jeremy Shatan (@anearful)
Prescient & Appreciative Musical Omnivore
http://anearful.blogspot.com
---
A producer's producer, Brown's debut work shows off his nuanced take on the timeless jazz hip hop sound.
---
As far as introductions to albums go, actual songs notwithstanding, the "Intro" track to I Do What I Do is one of the best I've listened to in recent memory. Between thanking the listener for checking out his music (while fully saying that he hopes they bought it, though he doesn't condemn anyone who may not have paid for it), admitting he's just making music that he enjoys, and that he wasn't even finished recording the album when he was recording "Intro," Kev Brown is upfront about pretty much everything, with plenty of humility and even a hint of self-deprecation. It gives off a down-to-earth impression that makes the rest of I Do What I Do easy to approach. And it's an accurate impression because what draws me to I Do What I Do is that it highlights Brown's abilities as a rapper and producer without any bells or whistles. I don't understand much about creating beats, but I do understand when I enjoy a beat, and there are plenty here that I enjoy. The transition from "Alone Again" to "Say Sumthin" is so smooth that I didn't even realize that the track had actually changed my first few listens (it happened again between "Hennessey Pt. 1" and "Hennessey Pt. 2" but I feel like those songs were meant to blend together), and the scratch work toward the end of "Keep On" made me wish I had continued to work on my DJ abilities outside of two days at summer camp. My absolute favorite moment on this album though? The end of "Struggla's Theme" featuring a child (the internet tells me that it's Grap Luve's son, but my source is also a YouTube comment so I don't know how reliable it is) dropping lines with encouragement from Brown and Luve. To me, that moment really epitomizes I Do What I Do: music made by a music lover, for music lovers.
Dustin Gates (@cmoncheermeup)
Relapsed Pop Culture Junkie
http://dustinhatesmusic.blogspot.com
---
Nice beats, excellent bass lines — to say the least, this was a very enjoyable album to listen to, and I felt like I got to know this guy and the people and labels he surrounds himself with. I have my favorite songs, like "Work in Progress" and "Beats N' Rhymes," but the thing I want to focus on, and I feel a little weird doing so, is the intro track. It might be the best intro track to a rap album that I've ever heard. He starts off by greeting us, introducing himself. He thanks us for acquiring the album with a charming joke about hoping we didn't download the album. Then he sets our expectations. "I'm not trying to change the game… I'm just doing music I like to do and hopefully there's people out there that like the same type of music I like". Then he gives his indie creds, telling us that he's from Landover, Maryland. He lets us in on the production aspects, telling us that the deadline is fast approaching and that he has two more songs to finish. And then he basically sets us loose to listen to the album and have whatever feelings about it that we're going to have. (In the left channel, someone is saying Rest In Peace to Christopher Reeves, which is nice, if not charmingly random). He introduces himself by name, but he also introduces his personality and character. Like I said, it feels odd to be talking so much about the intro, but I feel like it was truly well done. It caught my attention and primed me for enjoying the album as a whole, which is, of course, the whole purpose of an intro.
James Anderson (@unabashedjames)
Devoted Docent Of Musical Concepts
http://appetitefordistraction.blogspot.com
---
"Since I can't take it with me / I blow it all now." Much like the carefree "come what may" attitude of that lyric on track "Keep On," the whole of I Do What I Do gives off a vibe of keeping it casual and keeping it fun. Record cracks and pops adorn the rap and rhyme fueled record, giving the project a distinctly vintage and analog character that is practically begging to be heard in vinyl format. Some tracks start like Brown and his cohorts weren't totally prepared to seriously lay down sound ("Say Sumthin" feat. Kenn Starr and Quartermaine) or are perhaps just getting themselves into a mentally loose groove before the "real stuff" is meant to go to tape. But, in candid recording fashion, the extra bits are kept and the gentlemen just keep going. Given hip-hop's very fluid and unexpectedly serendipitous nature of creating, the decision to not force everything to be super clean cut from end to end makes I Do What I Do feel that much more authentic. That's not to say there isn't sincerity or a genuine message in piles of other hip-hop tracks but rather, it's an acknowledgement of Kev Brown's openness toward the idea of physically fuller context and human unpredictability in a recoding. Of course, the album overall still reflects quality, carefully made work, as any well-made record. The classic combination of vocally punctuating (but also well enunciated) spoken words with the melodic but non-intrusive support of piano, clean guitar and bass, helps the album to be easily approached by those unfamiliar with Brown or those who are just starting their journeys exploring the trails of hip-hop. There's are plenty of solid beats, as well as fun rhythmic play by way of record scratching ("Keep On" feat. Cy Young) and just a bit of melody to get caught in your ear (shout out to the vibraphone that sneaks into the aforementioned track!). Then, once the whole album has been gently experienced, the deeper intent of Brown's narratives are there waiting when people are most ready to give them interested and undivided attention.
Kira Grunenberg (@shadowmelody1)
Prolific Sonic Scribe & Unifier
http://throwthediceandplaynice.com
---
Largely honest & introspective, Kev Brown's lyrics properly explores a side of rap that most jazz beatmasters avoided.
---
"The stakes is high, but the budget is low." That line pops up in "Keep On," a track near the end of I Do What I Do in which Kev Brown and Cy Young pass bars back and forth in the same fashion famously revived by Jay-Z and Kanye West via "Otis" in 2011. It strikes me that the "Otis" video — in all of its Maybach-chopping glory — is ironic viewing under the circumstances. Those lyrics from "Keep On" represent both a reference to the name of Kev Brown's Washington D.C. based creative collective, Low Budget, and an ethos that underlies the whole album. Brown brings up money right away, in an intro that couldn't define the music-buying climate in 2005 any more perfectly or agonizingly: "I hope you didn't download it / I need the money." Then there's "Struggla's Theme," an ode to the conundrum of living a creative life with limited means: "Collaborating with bills piled up to my neck." But another thread is woven throughout I Do What I Do, starting with the album's title, and that's creative freedom. It's present in the very first verse of "Alone Again," which sounds like it grew out of a free writing exercise: "I'm letting the pen float across the page." It's embedded within his candor: "I'm too broke to bend any further, forget it/I write how I feel regardless," also from "Struggla's Theme." And it's there in the album credits, where you can find "producer" by his name for every track except one. You could even say that freedom seeps its way into the beats, given the meandering bass in "Keep On" and "Outside Lookin In." The budget may be low, but Kev Brown expresses himself with confidence and conscience, Maybach or no Maybach.
Davy Jones (@youhearthat)
Idealistic Seeker Of Neoteric Sounds
http://youhearthat.wordpress.com
---
What I liked about this album was that it all flowed together like one extra long, groovy song. The tracks all have a similar sound which comes from the background music, which is always a selling point for me. I find the music very smooth, chill, and extremely relaxing. I'm not necessarily the biggest rap fan, but his voice and the lyrics flow quite nicely, and suit the rhythmic style of the backing music. He seems to rap about experiences and life rather than some of the other rap songs that you hear today, which is appreciated. When it comes to most music, I tend to base my first opinion on the backing music as opposed to the lyrics, and as I said the music on this album has a great slow groove making it really quite easy to listen to and stay with you.
Chelsea Kostrey (@chelseakostrey)
Retrophile & Festival Enthusiast
http://ckostrey.wixsite.com/chelseakostrey
---
Kev Brown isn't reinventing the wheel here, something he tells you himself on the opening track in so many words. And despite the ridiculous amount of musicians who get criticized for copying the sound of one of their previous records, there's absolutely no shame in that. In fact, I'd say that many of the best records of all time weren't trying to reinvent the wheel. Sure, you can argue some like Pet Sounds were, but Sgt. Pepper's and Highway 61 Revisited were basically just attempts at topping their predecessors (Revolver and Bringing It All Back Home). I'm not quite sure that's what Kev Brown's trying to do here though. He's not improving on the wheel — he's flaunting its original design at a pivotal time when hip hop was really expanding and flourishing thanks to new technology and weaker genre boundaries. While others were busy offering up their own glossy and stylized image of what the wheel could be, Brown's just rolling out its most simple construct, and showing why it's not only still useful, but necessary. To be fair, Kev Brown has definitely thrown in a few subtle modifications here, largely in a lyrical sense with authentic, conscientious, and ingenious words that effectively ground hip hop in communities across the world. Yet those adjustments are all minor compared to the scope of his timeless production that really hammers home the awesome power of the quintessential hip hop sound.
Doug Nunnally (@musicdoug)
Garrulous Aural Braggart
http://sound-gaze.com
---
Off Your Radar Returns December 4th With This Selection:
Empty Streets by Late Night Alumni
Chosen By Erin Calvert
Off Your Radar Newsletter
Editor: Doug Nunnally
Contributors: James Anderson, Laura Burroughs, Erin Calvert, Catherine Dempsey, Kellen "J. Clyde" Ford, Dustin Gates, Kira Grunenberg, Davy Jones, Melissa Koch, Chelsea Kostrey, David Munro, Drew Necci, & Jeremy Shatan
Logo By Matt Klimas
In Case You Missed It